A Fertility Cleanse the Answer to a Healthy Pregnancy
If you are wanting to get pregnant or maybe you are thinking in a year or so I you want to get pregnant- right now is the perfect time to do a fertility cleanse.  A fertility cleanse supports the body's own detoxification abilities to help you support reproductive health.
Remember, the timeline for pregnancy starts way before you get a positive pregnancy test. A women's egg begins to mature about 150 days before ovulation. However toxic your body is at this point will affect the health of your baby for the rest of its life. So this is when you need to start acting like you are pregnant: 5 months before conception. The time before those 5 months should be used to prepare the body and environment. If you are already trying to conceive it is not too late to detox your body. Every step towards health impacts your future baby's health.
Cleanses are especially good for a women when:
She has had a miscarriage. A cleanse supports future egg health and balances hormones as well as cleanses the uterus.

She has irregular cycles; especially if she skips her period or has not had a period in 90 days, a cleanse can help remove the old blood and prepare a healthy uterine environment.

She has PMS symptoms. A cleanse can help alleviate the symptoms and balance hormones.
For a guys it takes approximately 74 days or 2 and half months for sperm to mature. This means that anytime, but especially if you are actively trying to get pregnant, is a good time for a man to do a fertility cleanse. This is especially true if a man has had his sperm checked and found any issues in the amount, function, or shape of his sperm. Doing a cleanse can support the body to improve sperm quality.
Actual measurements, called "body burden surveys," of contaminants in people show that average Americans have hundreds of manmade chemicals in their tissues (including amniotic fluid and umbilical cord blood) at levels high enough to be of concern. (3,4)
These toxins have been shown to prevent pregnancy, cause miscarriage, and cause chromosomal and developmental issues with the baby. (1)
I recommend the following kits because they take a whole-body view on cleansing by assisting the body's natural ability to remove excess hormones, support the uterus and promote normal liver function. It is recommended not to try and conceive while on the cleanse because the herbs are not safe in pregnancy. If someone did conceive while doing the cleanse they would simply stop the cleanse. It should not effect the baby if the cleanse is stopped.  (2)
There is a specific one for women and men. Click my affiliate link below to learn more about each fertility cleanse.
Female Fertility Cleanse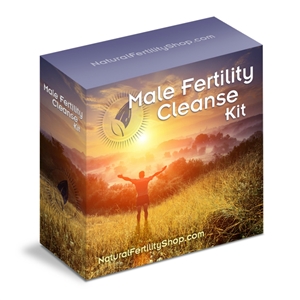 Male Fertility Cleanse
Here is to supporting your fertility journey and overall health by cleansing your body. You will feel better and your body will be better prepared to produce healthy sperm and egg for a healthy baby!
Sign Up for the Vibrant Blog and get 50% off your initial consultation with a fertility coach.
Sources:
1.  It Starts with the Egg by Rebecca Fett
2.  http://naturallysavvy.com/care/6-environmental-toxins-that-can-decrease-your-fertility#sthash.eTuD18mo.dpuf
3. Environmental Working Group, 2003. Body Burden: The Pollution in People. Online at http://www.ewg.org/ reports/bodyburden/
Picture are copyright by Graphic Stock and by creative commons for free use with out attribution.